January 2018
Date: January 16, 2018
Memorandum to: Directors of Education
Principals of Elementary School
Principals of Secondary Schools
From: Ministry of Education
Subject: Reminder: 2017-18 Premier's Awards for Accepting Schools
Nominations are closing soon!
2017-18 Premier's Awards for Accepting Schools
Don't miss this chance to celebrate great work at your school!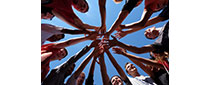 Ontario's safe and accepting school teams do essential work promoting a safe, inclusive and accepting school environment because they understand how vital this is to students' learning and well-being. This is your chance to celebrate these exceptional people and their achievements.
How to nominate your team
Anyone can nominate a team for a Premier's Award for Accepting Schools by using the online nomination form. Email your completed form.
Find more information at ontario.ca/acceptingschools, including the nomination form, answers to Frequently Asked Questions and tips on how to write a compelling letter of support.
Deadline: February 16, 2018 – 5:00 pm EST
Hurry! Send in your nomination today!