The Ontario Curriculum, Grades 1-8, and the Kindergarten Program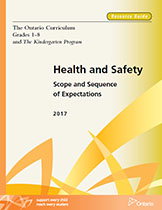 A resource guide developed in partnership by the Ministry of Education and the Ministry of Labour.
As children grow, gain independence, and explore their environment – at school, at home, and beyond – they must learn to identify and minimize risks to their health and safety. This resource guide has been prepared to assist teachers in bringing health and safety education into the classroom in Kindergarten and in every subject area in Grades 1 to 8. It identifies expectations across the Ontario curriculum that can help students develop knowledge and skills related to:
health and safety (injury prevention and health protection),
safe behaviours, and
safe practices.
The focus is on personal health and safety, safety in play and learning and other environments, and safety in relationships.
In the elementary curriculum, most of the expectations that relate directly to health and safety are found in science and technology and the health and physical education curriculum. In other subject areas, connections can be made to health and safety in various ways. Suggestions for making connections are given in examples, teacher prompts, and sample issues that accompany expectations, as well as in brief comments provided throughout the document.
This document is available as a PDF format. (958 KB)